Come into all 5 locations of
Tropical Isle & have a
HAND GRENADE!
435 Bourbon, 600 Bourbon, 610 Bourbon, 721 Bourbon
& our ALL NEW 727 Bourbon BOURBON ST. HONKY TONK!!
Hey, Wanna Have Some Extra
Zip In Your Step?
Try our HAND GRENADE®
ENERGY DRINK!
Hand Grenade
Energy Drink -SPECIAL
Get it only in $10
Tropical Isle® at Bourbon & Orleans | Top of the Trop
Home to New Orleans' Most Powerful Drink®
THE HAND GRENADE!®
Tropical Isle® & The Bourbon Street Honky Talk™ are great places to plan on spending your day or evening when you visit New Orleans & the French Quarter!  We've been rated as #1 Bar in the French Quarter by Where Yat Readers Poll and we've also been on the TV show "Drinking Made Easy" where our Hand Grenade Drink was featured.
Our live street webcam on the corners of Bourbon & Orleans makes it a place to be seen by your friends and the rest of the world when your in New Orleans! So come on in and get a
Hand Grenade
®
Drink, or some of our
other famous drinks
like the Shark Attack,  Horny Gator
®
 or Tropical Itch
®
 while you are in the French Quarter.
Our location at Bourbon & Orleans features two levels with our "Top of the Trop" having one of Bourbon Street's largest balconies with a view of St. Louis Cathedral and "Touchdown Jesus" and is used by TV news groups to broadcast from.  "Top of the Trop" is available for private rentals for all special events, including Mardi Gras, Halloween and New Years Eve.
Tropical Isle® Bourbon at 721 Bourbon St.
Tropical Isle® Original at 600 Bourbon St.
Tropical Isle® Bayou Club at 610 Bourbon St.
Little Tropical Isle® at 435 Bourbon St.
Bourbon Street Honky Tonk™ at 727 Bourbon St.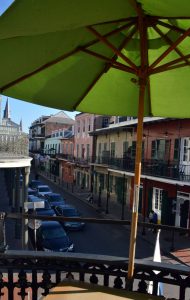 Live Entertainment On a Nightly Basis!
We have
live entertainment
at our
locations
!  
Bands
like The Hangovers, Late as usual, The Cajun Drifters, Rhythm & Rain Trio, Mark Pentone and The Blues Masters are just some of the talent that grace our stages on a nightly basis.  From Rock & Roll, Cajun Zydeco and Trop Rock Island style music you'll be sure to find music to keep your feet tapping while you're enjoying one of our fabulous cocktails.
Take Tropical Isle Home With You!
Whether you live an hour's drive or an 8 hour plane ride away you can now take the world famous Hand Grenade® home with you!  Our
store
features our
drink mixes
,
souvenirs
,
t-shirts
and much more!  Have a Hand Grenade party even when you aren't on Bourbon Street in New Orleans!
And what Hand Grenade Party wouldn't be complete without some of our bands?  You can now see all 5 of our stages via
live streaming webcam
!